Community Development
Community Leadership
Social Work
Income-generating activities
Education
Access
Extracurricular activities
Quality
School Management
Health and Nutrition
Nutrition
Prevention
Direct Intervention
Special Needs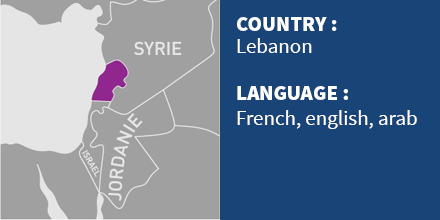 Year of Creation and Start of Partnership
Community Development
Publication of the handbook of associations in Lebanon, working with groups of parents with a common experience, working with the core group of parents to defend the cause of any child with a disability before society and state authorities and working with the siblings group of children to help them overcome difficulties with their brother or sister in a situation of disability and defend their cause in society.
SESOBEL is an active member of a lobbying group with the various ministries to ensure the needs of associations working with people with disabilities.
The centres of help through work or work of young people with disabilities and the mothers of the children.
Education
To enable children with disabilities to receive an education adapted to their specific needs.
To provide children with disabilities with quality education of the highest standards through adapted pedagogical approaches.
Organize cultural and recreational outings for children with disabilities, in order to give them access to different places and activities.
SESOBEL welcomes children with special needs directly into its classes from kindergarten to the end of high school.
Health and Nutrition
SESOBEL has quality medical facilities and highly qualified staff at its centre to provide the children with the regular care they need.
SESOBEL prevents disability-related nutritional disorders ranging from severe undernutrition to morbid obesity. Children or adults with physical disabilities, multiple disabilities or progressive illnesses are at high risk of developing swallowing disorders that lead to undernutrition. A multidisciplinary team made up of doctors, speech therapists and dieticians is required to diagnose eating disorders as well as the management, which is important to avoid complications such as enteral feeding. Similarly, obesity among young people with disabilities, such as those with Down's syndrome, puts them at risk of developing medical problems. Prevention of these problems is important through a healthy, varied and diversified diet.
SESOBEL provides parents with information on healthy eating through parental guidance and training.
SESOBEL welcomes different types of disabilities: motor, intellectual (including Down's syndrome), multiple disabilities and autism. SESOBEL offers care adapted to the needs of these children and young people. Their nutrition is under the supervision of a dietician who makes sure that each child receives an adequate diet (ground food, diet for diabetes, obesity…).