Education
Health and Nutrition
Nutrition
Prevention
Direct intervention
Protection from Abuses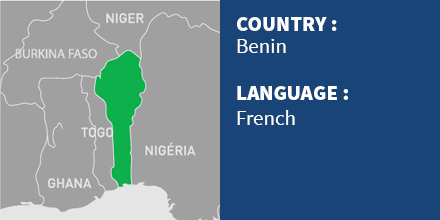 Year of Creation and Start of Partnership
Education
Racines promotes and increases the participation of parents in the education of their children (e.g. through the coordination of Parents Associations), the organisation also monitors children who have dropped out of school.
Racines builds the capacity of education actors (teachers, directors, Parents Associations, pedagogical advisors). Racines also works on the improvement of teaching materials, provision of school supplies, tutoring and the participation of children in the governance of schools.
Health and Nutrition
Racines manages the ADIS health centre in Cotonou (HIV/AIDS treatment).
The promotion of health is done at school (by teachers, children and parents), Racines also organizes training for teachers and health committees.
Racines organizes the training and follow-up of women restaurateurs in schools through school canteens (on the nutritional values of food for example) and carries out culinary demonstrations.
Protection from Abuses
Racines organizes awareness-raising sessions and radio broadcasts and puts a strong emphasis on empowering children to defend their rights.