In an XXL family, we tend to think that children are not treated the same way. The daily routine, the time or the order of priority, the older ones are the ones who suffer from lack of attention, of affection. This is what we are used to thinking, but it is not always the case.
Mrs. Sylvie and her husband Mr. Victor, have 8 children including 4 twins. Each child has a reason to exist and should not be considered less than another, they say. "We have always done our best to raise our children in an equitable way. We have always done our best to raise our children in a fair way, so that each one gets all the affection they need and this is their right as children.
"And even though our work takes time, we never underestimate spending time with our children, talking to them, playing with them. Despite the sheer numbers, organization has always been our best weapon. Every day, everyone has their own little mission at home, but when the evening comes, it's the big gathering. Entertainment and discussions are the order of the day and everyone takes part. We talk about everything and nothing, it's the moment for everyone to tell what they want, listening to us we have the impression to have spent our day together!
Apart from communication, studying is very important. Each of the children is used to studying early in the morning without being told to do so. As the mother is a teacher in a secondary school, the preparation of the lessons takes her time, but it does not prevent her from being active in the follow-up of the education of her children. So much so that the eldest daughter, "Tsiky", aged 14, is in the first year of secondary school and is doing very well, as she is always top of her class. She aspires to become a doctor later on.
A passion shared by the family, group reading. "Mom always reads with us when she has a little time, so that we almost feel like we are part of the book's adventures. Since we don't have school today, she has brought out the storybooks and we all sit quietly together in front of our house. Everyone loves to listen to the way she brings the characters in the book to life. And when the story is over, mom asks us questions and everyone rushes to answer while dad makes jokes about the stories told, it's great! The more the merrier," says the oldest of the family, Tsiky. "Besides reading, we spend time playing games with our family. Dodgeball, 10-man pass, and hide-and-seek are our favorite games, as both young and old enjoy them. It's a real moment of fun and cohesion for the family.
"There are 10 of us at home, everything we do is done as a team and even more so in life we are a team, daddy and mommy, one is there for the other", says the father.
All children should have the right to have a family, to be surrounded and loved!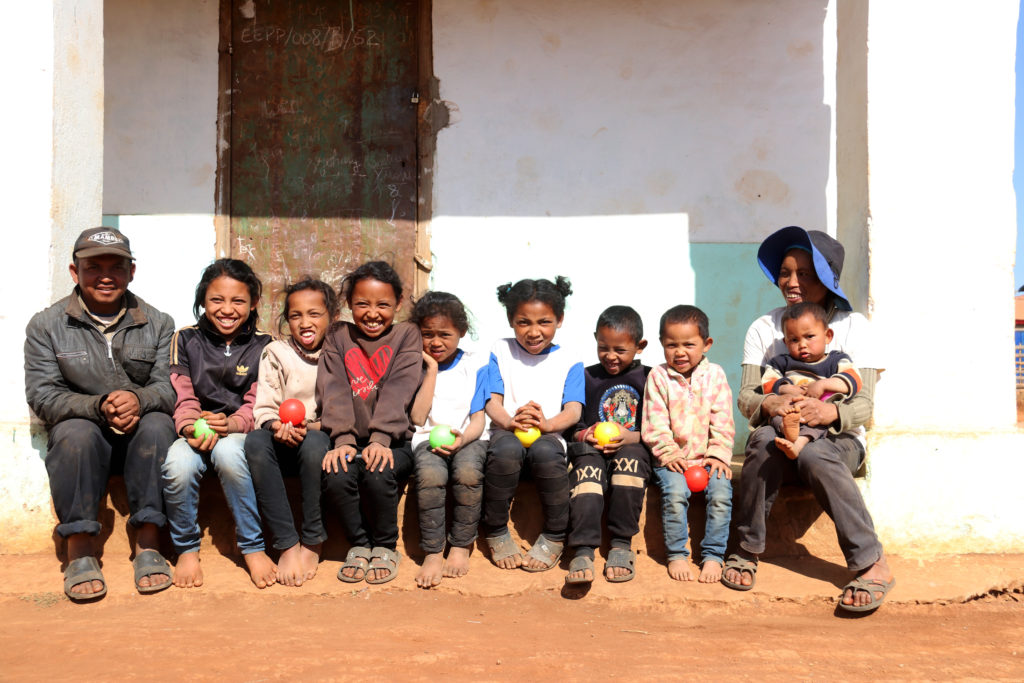 Mrs. Sylvie and Mr. Victor are parents of 8 children: Tsiky, 14 years old, Manaja, 12 years old, Miangaly, 12 years old, Antsa, 10 years old, Antso, 10 years old, Mandrantosoa, 8 years old, Mitia, 5 years old, Joharinantenaina, 2 years old .
Location: Rural commune of Faravohitra, in the ITASY region.